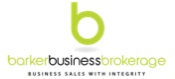 Barker Business Brokerage Listings
Barker Business Brokerage Ltd
36 Tarndale Grove
Rosedale
Auckland

Business Sales with Integrity. Barker Business Brokerage is a family-run business dedicated to freeing up the capital from your business, or finding perspective buyers that perfect venture. Our highly-skilled team of brokers have first-hand experience of what it takes to buy and sell a business, and we can easily match their industry expertise with your requirements.
Listings
Childcare Investment, Multiple Opportunities, Auckland Locat

[more +]

Such an Opportunity, It Doesn\'t Even Feel Like Work

[more +]

Quality Childcare Business - South Island

[more +]

Auckland North Childcare for Sale

[more +]

Price Reduced - Auckland North Shore Childcare

[more +]

Hamilton Childcare - Managed Investment

[more +]

Profitable, Established Collision Repair - Look NO Further

[more +]

Manufacturing - Profits Over $800,000

[more +]

Water Bottling Business for Sale - Make an Offer

[more +]

Aged Care Facility For Sale, Northland DHB

[more +]

Open to Offers: South Island Aged Care Business Only

[more +]

Essential Trades - Resilient Niche Clients

[more +]

Sell Top Quality Exclusive Products Direct

[more +]

Be Your Own Successful Boss - Great $$!

[more +]

A Clean Slate to Launch Now - Global IP Rights

[more +]

Apiary - Buzzing with Many Growth Opportunities

[more +]

Two For One Works Perfectly - Winning Combination

[more +]

Game Fishing Charters - Pacific Islands Business

[more +]

NZ Distributors - National Dealer Network

[more +]

Flushed with Success - Management Team in Place

[more +]

Licensed Building Practitioner? Check This Out

[more +]

Two Very Rare Hen\'s Teeth - Real Estate Industry

[more +]

Import, Sales & Service Biz - Facilities Infrastructure

[more +]

Thermal Coal Resource - New Zealand

[more +]

Trade Export Business - Consistent Sales & Profits

[more +]

Painting Biz - Residential / Commercial in Auckland

[more +]

Tourism IT Support & Marketing, Specialized Own IP

[more +]

B2B Service Biz - Established 1992

[more +]

Huge Margins, Stellar Returns, Upside

[more +]

This Is What Opportunity Looks Like...

[more +]

Luxury Lodge for Sale voted Best in Oceania & Asia

[more +]

Work The Hours That Suit - Profitable Service & Install Biz

[more +]

30 Licence Childcare Centre - Bay of Plenty

[more +]

Reputable Business: $2.3M Cash Surplus

[more +]

Stunning Textile Business - $1.6M EBPIDT

[more +]

Horticulture Biz: $583K Cash Surplus

[more +]

Make Money While You Sleep - Profitable Hire Biz

[more +]

Thriving Import/Dist Apparel Biz, Premium Brands & $500K+ Cash Surplus

[more +]

Outstanding Childcare Biz, Part-Time Hours, Cash Surplus $160K Plus!

[more +]

Enviable Brand, Hugely Successful with Healthy Cash Surplus

[more +]

Fantastic Opportunity Awaits in Hugely Popular Destination

[more +]

Wholesale & Manufacture Business - Relocatable

[more +]

Cash In On Summer Trading - Popular Mangawhai Hospitality Venue

[more +]

Successful Fencing Business, North Auckland

[more +]

Software Development Business + Developer Option

[more +]

Popular, Profitable Cafe - Nth Island Beach Location

[more +]

OPEN FOR BUSINESS - Event Management & Function Rentals

[more +]

Profitable New Zealand Video Production Business

[more +]

Aluminium Outdoor Awnings & Blinds Business

[more +]

Modern 3 Theatre Cinema With Massive Potential

[more +]

In the Lifestyle Sector - Delivering $234K Profit FY2022

[more +]

Industrial Controls Import / Distribution & Tech Support

[more +]

Great Managed Business - High Cash Surplus - Low Multiple

[more +]

Managed Commercial HVAC Business - YE2022 $469K Cash Surplus

[more +]

Successful Design Store $ Surplus Projected $240K

[more +]

Plumbing & Gas - Work That Pays Off

[more +]

Join the Renewable Energy Revolution & Make $ Doing it!

[more +]

This Is a Dream Business But You\'ll Need To Move Fast

[more +]

Great Location, Great Food, Great Opportunity to be a Lunchbar Operator

[more +]
---
CONTACT A BUSINESS BROKER
Email Chloe Belli from Barker Business Brokerage - Auckland Region
Please fill out the form below to send us an email. You will be contaced promptly.
---
Most Auckland Region business owners will benefit from the help of an experienced business broker with the preparation, packaging, pricing and marketing of their business opportunity. So choosing the right business broker can make all the difference in obtaining your best price and a fast sale when listing your business for sale.
After an Auckland Region based Business Broker who covers Auckland Region?
It is important that your broker is up with the play and has a range of online marketing tools in place to effectively promote your business for sale, as you want to maximise the number of quality leads when selling your business. Even if you are not computer literate yourself, the first place the majority of business buyers will look is online - they will visit the main New Zealand business for sale websites where the majority of businesses are listed for sale.
When choosing a competent Auckland Region business broker - ensure your broker is using all the key "business for sale" listing websites like nzbizbuysell. It is important they are not limiting their search for buyers. Check to see they have been keeping up to date with the market and key communication tools, and have a comprehensive marketing plan and budget for selling your business, so you get your best result.
Here at nzbizbuysell we provide a successful, well established online marketing channel with resources to assist you and your business broker in selling your business. Barker Business Brokerage have experienced Auckland Region business brokers that can assist you in selling your business, so contact Chloe Belli today to find out more about their services.
Choosing a professional business broker in Auckland Region or wider Auckland Region, that has the necessary skills, can make all the difference in obtaining your best price and a quick sale when selling your business.