How to Buy a Business
How to buy a business: So, you've dreamt of being your own boss, of owning your own business… Buying a business is always easier and safer than starting one from scratch. As well as cashflow from day one, you get proven products and systems, and get to see how the business has performed in the past. This way, you let the seasoned entrepreneurs take the risk, develop the market, and find out what works and what doesn't.
5 Reasons to buy an existing business
A customer base - this means cash flow from day one.
Accepted products and/or services. They have already been developed and work.
Experienced and skilled staff who understand the business and can help you run it.
Systems that keep the customers coming and the cash flowing.
History - the previous owner has operated this business and will have financial records on its performance.
Owning a business can be exciting, rewarding and often time-consuming, so when searching for a business, make sure it's something you will enjoy. It is also helps to play to your strengths and skills, as these will help you add immediate value to the business.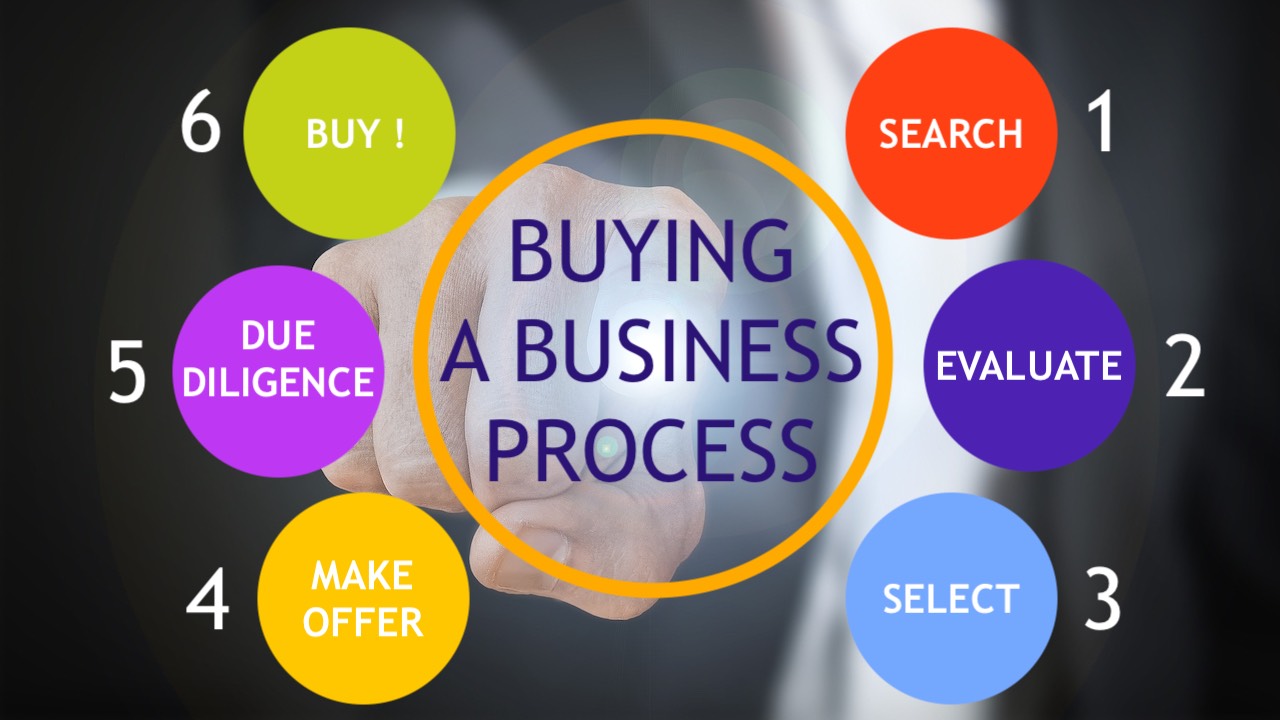 Buying a business can take on a number of forms - you may want a conventional business, or it may be the customer base or resources that you're after.
By buying an existing business you're getting a proven business with less risk, which is likely to save you both time and money. It's important to look at many options and find a business that best suits you.

Plan the process. Work out what your key objectives are & identify the types of business that best match your skills & needs.
The key steps to buying a business:
Search opportunities - Save your key searches and add promising listings to your watchlist.
Evaluate - Get more information - then check out the business, market, industry, and its competitors.
Select - Found something you like? Then register your interest in buying the business and get more information.
Make an offer - It looks good and you wish to proceed - get professional advice and draw up an offer subject to your conditions and due diligence.
Due diligence - Make sure it stacks up with what you've been told.
Deal done! - Confirm everything is correct and you're good to go!
Explore my business options
Search top listings contributed by business brokers & private sellers
Stay up to date and informed!
Subscribe and receive our FREE new listings emails & Newsletter
So it's time to buy a business
Q. How do you buy an existing business?
Buying a existing business has a number of advantages over starting a business. Firstly there is less risk when you buy an existing business. Search Business for Sale NZ websites like nzbizbuysell, and enquire about businesses that suit your strengths, interests, skills and lifestyle needs. Once you have found a suitable business, do your homework and use professionals to help value and confirm the business is viable. Once satisfied, make an offer subject to any conditions and due diligence.
Q. Is buying an existing business a good idea?
There are a number of advantages of buying an existing business. Most businesses come with an established customer base and cashflow, proven products and/or services, and existing systems and processes. The benefit of a solid customer base and a steady cashflow is immeasurable as building a strong customer base can take years and be costly. An existing positive cashflow enables you to borrow money and pay staff and suppliers without drawing on your cash reserves. Buying an existing business is a great idea as it allows you to focus on growing the business from day one.
Q. How can I buy a business with no money?
It is possible, but it won't be easy. Most sellers want to cash out. However, occasionally there are owners who are selling their business, and are willing to lend to a buyer, in order for the sale to proceed. This could be a mixture of loans and seller financing, and some may look at a "phase out deal" where you can pay them back over a few years.
Further articles:
Buying a restaurant or cafe
Buying a hotel or motel
Buying a shop or retail business
Buying a manufacturing business
Contact any business Seller or Business Broker … its FREE !
Receive our FREE fortnightly Business Sales Bulletins
Or read more on the 9 Steps to Buying a Business
Share this page:

"New Zealand's #1 site for buying a business"
...with over 2,500 New Zealand businesses for sale online