Owning a business - the next day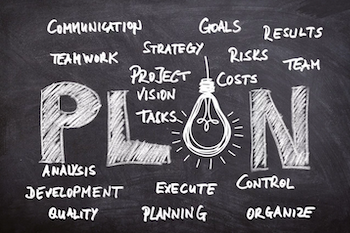 Fantastic! You're in business. Time to draw-up a takeover plan.
It will cover the handing-over from the out-going owner, managing the affects on culture and staff, and how to maintain continuity with suppliers and customers. A new entity will need to be established, suppliers accounts, bank accounts, insurances and staff contracts, and of-course then there is your new business plan to do.
Having taken stock of what you have and where you are, you need to look to where you are going
.
5 key components if you really want your business to fly:
1. Key Objectives
What your business must achieve at the end of 2-3 years so it grows and prospers and provides you the business owner(s) with the lifestyle of your choice. If you do not have this clearly defined then your business might simply have you doing what it wants - and your business can make a very cruel master with a demand on more hours, more time away from you family and more personal cash. Your key objectives should be exciting, specific and once achieved should give you a feeling of extreme accomplishment.
2. Killer Mission
The ongoing achievement of your mission will propel you toward the attainment of your key objectives. Most mission statements are 'feel happy' useless statements that achieve nothing for your business - let your mission statement be a map toward your goals (Key Objectives).
Your mission does not need to be seen by your clients and does not need to be on the wall in plain view of all ... it does need to be a strong statement of how you are going to get your goal, by when and by what methods you are going to achieve this. Remember where the word mission comes from - the armed forces - "we will take that hill by 0900 hours using extreme and deadly force so command can use that route for the supply of our troupe in x region".
3. A-Class Clients To Propel Your Business To New Heights
Most business owners expand their business without taking into account how their client base will affect their business and its ability to achieve their Key Objectives.
Clients can destroy your business if they are the wrong type. Imagine for a moment that you expand your business and you bring on more clients that are hard to deal with, always complain about what you do, expect the lowest price for the best service and are always pestering you with no real benefit = a D-Class client. Imagine doubling your business and all of them are D-Class clients ... lets face it, you would never want to show up at your business. You're A-Class clients will support you and your business in achieving your Key Objectives if you know who they are and how to find them.
4. Purpose That Gives You Heart
A major reason behind employees not working the best they can or not working toward the achievement of the owner's Key Objectives is because they don't feel any heart in the business. The purpose of the business is either sterile, does not exist or does not inspire any emotion. As such the employee can only work for money and treat you like all the other businesses - and let's face it; some of the businesses out there are not good. Put heart into your business!
5. A Powerful Exit From Your Business
65% of all businesses listed for sale in the US do not sell and either go broke or simply close the doors. Your exit from your business needs to be defined now in order for you to get the most from your business and to add to your life. Every exit strategy has a different requirement from how your business needs to be designed. Be it selling your business outright, to a family member, or a management buy-out; you'll need to have a strategy in place from day one to ensure you build a valuable and saleable business.
For more on exit strategies see... Do you have a
Business Exit Strategy
Every business exit strategy has different needs with regard to setting up your business to exit. Some exit strategies will take more time than others and will deliver a greater return at the end of the day ... the choice is yours, but you need to start now.
But from day one you need to ensure you pay attention to...
Creating the Right Environment:
Look after your staff, generate job satisfaction and an environment that will stimulate and encourage your team to attend work and give of their best. Review and assess jobs so that your staff know you are aware of their activities and responsibilities. Ensure people feel valued are paid fairly and competitively. Build a fair, diplomatic and structured environment that will keep your employees active and enjoying their work.
Generating Cashflow:
Business survival = cashflow, and often changing a number of small operating areas within your business by as little as 2% - 3% you are able to make massive changes to the financial health of your business. The mix of your profitability, pricing structure, accounts receivable, accounts payable and overheads plays a dramatic role in your business generating either a positive cash flow or a tight or negative cash flow. Assess where your most likely gains will come from, and take the fast and secure road to generating a positive cashflow for your new business.
Much of this material has been provided by Icon Business Solutions...
For further information on buying or selling a business visit
Business for Sale
website nzbizbuysell
Share this article: