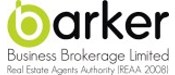 Alan Dufty

Alan Dufty
PO Box 301111
Albany
Auckland 0752

09 925 8774
021 550 645
Barker Business Broker of the Year 3 x Award Winner
Most sales within the company
Record for Highest Price over Asking
Record for Fastest Sale

www.alandufty.co.nz
When entrusting someone to sell your largest, most complex asset it goes without saying you want the right person for the job. For over eight years Alan has successfully helped Vendors exit their businesses, ensuring they are justly rewarded for their efforts. He is a top performer and in his time here has sold more businesses than any other broker at Barker Business - he will always go the extra mile to protect his client's interests.

Alan strongly believes meticulous planning and faultless execution is imperative to a smooth, successful sale, so he makes it a priority to get to know the intricacies of every business he represents. He has facilitated transactions across a wide spectrum of the business market, including manufacturing, construction, distribution, wholesale, food & beverage technology, retail, hospitality and service businesses. Most importantly, Alan knows how to close a deal.

Extremely personable, honest and a great communicator, Alan conducts himself with integrity at all times– this has been the foundation of his success. Alan says: "With large business sales, confidentiality is paramount and with New Zealand being so small, care must be taken when trying to attract the right buyers to a business. Even after a confidentiality agreement has been signed, I go through a careful screening process with each prospective buyer, including pre-qualifying buyers before disclosing any business information".


"Selling your business is a huge life-changing decision, so please don't hesitate to contact me for no-obligation, expert advice. When you decide the time is right for you to sell, go with a proven track record and feel confident you are being looked after. I will work tirelessly to ensure you get the best possible price."