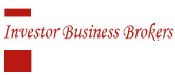 Investor Business Brokers
Investor Business Brokers Limited (REAA2008)
7 McColl St
Newmarket
Auckland 09 535 1215
Contact:
John Burnett
Investor Business Brokers Ltd mreinz has been assisting buyers and sellers since 1982 with 100's of settled business transactions. The focus is on the mid range mergers and acquisitions, and high end value private family owned businesses, specialising in the sale of businesses with revenues from $1 million to $30 million. Investor Business Brokers deal with private and public companies and individuals from Australia, China, Taiwan, Hong Kong, Canada, USA and New Zealand and are a recognised pioneer of business Agency best practices. Unlike the traditional brokerage model, we have chosen to accept assignments from only a few clients at a time. This focus means we need to be confident that we can sell your business at or above your expectations or we will not accept the engagement. We do what we say we will do.
Business Brokers

PO Box 82173
Highland Park
Manukau City 2143
027 27 91127
09 535 1215
Investor Business Brokers
---
Email John Burnett from Investor Business Brokers - Auckland Region
CONTACT A BUSINESS BROKER
Please fill out the form below to send us an email.
We will be in touch with you promptly.