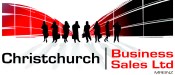 Christchurch Business Sales Listings
Christchurch Business Sales Ltd
40 Enverton Drive
Rangiora 7400

Christchurch Business Sales Ltd was established in 1991 and has built a strong client base of buyers and sellers from our 25 years of successfully negotiating and selling small to large businesses worth millions of dollars.
Listings
***Ohoka Gas*** Profit $270000 The Total Package. Service Station and Workshop, Hire Centre and C...

[more +]

Backfill Conveyors Ltd - Remote controlled Machinery for the Construction Industry.

[more +]

Rare Opportunity. Top Brand - New retail site

[more +]

Money Maker - Profit $300,000 to $400,000 & about to grow - Why have the money in the bank?

[more +]

**Highly Profitable Auto Workshop** Sold

[more +]

Safety Seatbelt Installation NZ Ltd. Owner Requires Sold for health reasons - Price Reduced.

[more +]

Challenge Service Station - Burnham Auto Services Ltd

[more +]

McDonnells Tree Trim is a stunning, unique, niche business with excellent returns.

[more +]

Sold Highly Profitable Sales and Repairs. Leading Lawnmower, Chainsaw and small engine Business&n...

[more +]

Sold - NPD Service Station and Workshop Centrally located on the main road in the Tapawera townsh...

[more +]

Cheviot Service Station. Workshop and Hire Equipment. Expressions of interest. Freehold or Lease,...

[more +]

High Profile Workshop in Prime Location Enquiries over $85,000

[more +]

New Listing South Shore Service Station Freehold Going Concern

[more +]

One of Christchurch's leading sales and small engine repair shops

[more +]

Culverden Challenge - Workshop Lease

[more +]

One of Christchurch's top motor workshops

[more +]

Central City Workshop - Be your own boss

[more +]

High profile cleaning business - Non Franchised

[more +]

Priced below market value for quick sale Great opportunity for enterprising person to own this bu...

[more +]
---
CONTACT A BUSINESS BROKER
Email Ron Dougall from Christchurch Business Sales - Canterbury
Please fill out the form below to send us an email. You will be contaced promptly.
---
Most Canterbury business owners will benefit from the help of an experienced business broker with the preparation, packaging, pricing and marketing of their business opportunity. So choosing the right business broker can make all the difference in obtaining your best price and a fast sale when listing your business for sale.
After a Canterbury based Business Broker who covers Christchurch?
It is important that your broker is up with the play and has a range of online marketing tools in place to effectively promote your business for sale, as you want to maximise the number of quality leads when selling your business. Even if you are not computer literate yourself, the first place the majority of business buyers will look is online - they will visit the main New Zealand business for sale websites where the majority of businesses are listed for sale.
When choosing a competent Christchurch business broker - ensure your broker is using all the key "business for sale" listing websites like nzbizbuysell. It is important they are not limiting their search for buyers. Check to see they have been keeping up to date with the market and key communication tools, and have a comprehensive marketing plan and budget for selling your business, so you get your best result.
Here at nzbizbuysell we provide a successful, well established online marketing channel with resources to assist you and your business broker in selling your business. Christchurch Business Sales have experienced Canterbury business brokers that can assist you in selling your business, so contact Ron Dougall today to find out more about their services.
Choosing a professional business broker in Christchurch or wider Canterbury, that has the necessary skills, can make all the difference in obtaining your best price and a quick sale when selling your business.