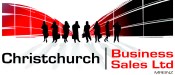 Christchurch Business Sales
Christchurch Business Sales Ltd
40 Enverton Drive
Rangiora 7400 03 379 1779
Contact:
Ron Dougall
Christchurch Business Sales Ltd was established in 1991 and has built a strong client base of buyers and sellers from our 25 years of successfully negotiating and selling small to large businesses worth millions of dollars.
---
Email Ron Dougall from Christchurch Business Sales - Canterbury
CONTACT A BUSINESS BROKER
Please fill out the form below to send us an email.
We will be in touch with you promptly.